The South African Medical Research Council (SAMRC) endeavours to improve maternal, child and women's health through high quality scientific research that informs policy and practice and improves health services.
One such area of research is focused on birth asphyxia, also known as hypoxic ischemic encephalopathy (HIE). HIE is diagnosed shortly after birth and results from a reduction in the supply of oxygenated blood to the brain. HIE is one of several causes of neonatal encephalopathy (NE), and until other causes of NE have been excluded, the condition is referred to as neonatal encephalopathy with suspected HIE or NESHIE.
Relative to high income countries (HICs), HIE occurs at a 10x higher incidence in lower-to-middle countries (LMICs). The standard of care for HIE is therapeutic hypothermia (TH), which has been shown in many instances, particularly in HICs, to reduce the consequences of moderate-to-severe HIE, which includes cognitive defects, seizures and cerebral palsy. Although TH is available in most HICs, its availability remains limited in many LMICs, including in South Africa with the exception of large tertiary hospitals. TH has been shown to be ineffective and potentially harmful in some LMICs, including Uganda, India, Pakistan, and Sri-Lanka. Thus, a novel form of treatment aimed at reducing the consequences of moderate-to-severe HIE is much needed.
Led by Prof Michael S Pepper, Director: SAMRC/University of Pretoria - Stem Cell Research and Therapy Research Unit, members of the NESHIE research group are studying its molecular pathogenesis and also aiming to identify biomarkers that might be useful in a clinical trial that is being planned to identify one or more neuroprotective agents. The current study is being funded by the SAMRC and Bill & Melinda Gates Foundation (BMGF) and includes many local and international collaborators.
Experimental design & analysis
HIE is classified as mild, moderate or severe corresponding to Sarnat classification grades 1, 2 and 3. Data and samples collected from neonates with grades 1, 2 & 3 HIE are being compared to controls (neonates without HIE).
To date >450 grade 2 & 3 neonates have been enrolled in the study, with the following being analysed:
Clinical parameters (up to 1500 data points per neonate and parents).
Genome – preliminary whole genome sequencing has identified several variants in candidate genes that might predispose neonates to HIE.
Transcriptome – patterns of gene expression are being analysed in cord blood nucleated cell RNA, and might allow for the identification of sub-groups of neonates with HIE.
Proteome – several proteins have been identified from neonatal blood spot samples (a) whose expression changes between 0-6 & 48-72 hour time points; and (b) that increase with increasing severity of HIE at 48-72 hours.
Metabolome – analysis of neonatal blood spots is underway.
Placental histology and microbiome – histology has been completed on a subset of placentas and microbiome analysis will begin soon.
Low-field MRI – we have been very fortunate to have low-field (64mT) portable MRI machines placed at two of our sites; this has the potential to overcome the severe backlog in MRI scans for NESHIE babies, which are needed for diagnostic, prognostic and therapeutic decisions, as a consequence of being able to move the machines to the baby's bedside to perform the scans.
Implications of findings
There are several genetic variants that are significantly associated with NESHIE.
Transcriptomic profiles (clustering of expressed genes) should allow us to distinguish different sub-groups of NESHIE, which will be important in understanding its pathogenesis and for treatment planning.
Proteomic and metabolomic profiles have revealed that there are specific molecules associated with NESHIE severity that could become important prognostic factors and influence treatment decisions; these may also serve as critical proximal biomarkers for assessing the efficacy of the neuroprotective agents that are soon to enter clinical trials, and in which the NESHIE team will play an important role.
Data on placental histology has revealed a high prevalence of chorioamnionitis, while the microbiome data should provide an understanding of the potential infectious agents.
Through an ongoing collaboration on software development with our partners, we have been able to approximate the resolution using the 64mT MRI machines to those obtained with conventional Highfield 1.5T machines.
Finally, as a consequence of the success of the project and the trust that has been developed between the NESHIE team and the BMGF, we have been asked to lead the interventional phase of the project that is aimed at assessing the potential neuroprotective effects of a novel therapeutic agent(s).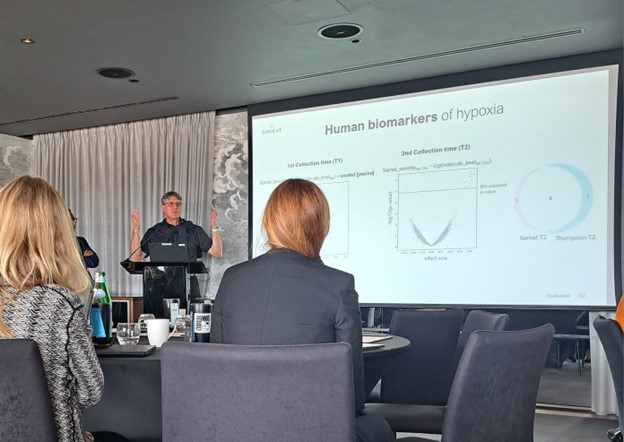 Given these findings, members of the NESHIE research group were recently invited to attend the NeuroCon 2023 meeting in London to present their work on birth asphyxia. The meeting brought together global experts on the subject and consisted of presentations and extensive discussions on the pathogenesis, prevention and treatment of HIE. The design and implementation of a clinical trial aimed at assessing the efficacy of novel neuroprotective agents was a major topic of discussion, with data from several pre-clinical models being presented and planning being discussed.
Prof Pepper said "the NESHIE study is ongoing, and we are entering the fifth and final consecutive year of sample and data collection. We understand that this is the largest cohort of its kind globally, and through our unique multi-omics approach, we are beginning to produce highly original data that has the potential to make a significant impact on the prevention and treatment of NESHIE."
Read more about the Stem Cell Research & Therapy Research Group | HERE