The HIV-TB Pathogenesis and Treatment Research Unit, based at the Centre for the Aids Programme of Research in South Africa (CAPRISA), researches ways to reduce the mortality rate and widespread presence of HIV and Tuberculosis (TB) co-infection.
HIV infection is the leading cause of death in South Africa, which has the third highest HIV-related TB problem in the world, with as many as 60% of HIV patients being co-infected with TB.
Key focus areas
Improving the survival rate of those infected with both HIV and TB by optimising their treatment;
Sharing reliable information on the links between HIV and TB;
Promoting the use of clinical trial evidence in real world settings;
Informing the country's HIV-TB epidemic policies and practices; and
Growing South Africa's HIV-TB co-infection research community.


Overview of the MRC HIV-TB Pathogenesis and Treatment Research Unit research plan: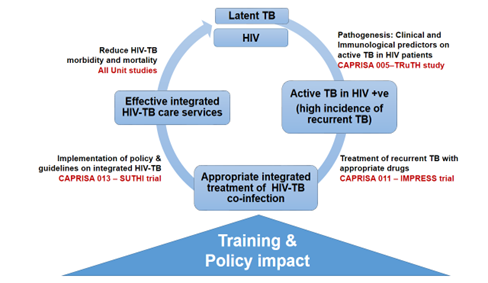 For more information, visit the Centre for the AIDS Programme of Research in South Africa (CAPRISA) Website