Each year, World Intellectual Property Day is observed on April 26 with the aim of raising awareness of how Intellectual Property (IP) and IP rights such as patents, trademarks, copyright, and designs impact our daily lives and encourage innovation and creativity. This initiative was established by the World Intellectual Property Organization (WIPO) in 2000, and this year's theme was "Women and IP: Accelerating Innovation and Creativity" to celebrate women who are helping shape the world through their imagination, ingenuity and hard work despite the challenges uniquely faced by women.
According to the most recent WIPO development studies report examining women's participation in PCT international patent applications – as one form of measuring innovation - the global gender gap in innovation and creativity is still vast. Data from 1999 to 2020 revealed that women were involved in only 23% of all patent applications, while men were involved in 96%.
This year's World IP Day campaign is an opportunity for us as South Africans and closer to home as the SAMRC to:
celebrate the amazing achievements of women inventors, creators and entrepreneurs around the world,
double efforts to promote inclusion and diversity in all areas of our work, to ensure the development of the innovation ecosystems that is accessible to all genders, and
reignite discussions around diversity and inclusion in the workplace, having students talking about women and IP as part of the conversations and to explore possible initiatives such as establishing fit-for-purpose mentorship programmes.
IP and the SAMRC
Communities should be aware of the different forms of intellectual property and how it impacts various industries. By promoting a better understanding of intellectual property, we can ensure that innovation and creativity continue to thrive while also protecting the rights of creators and inventors.
To commemorate World IP Day 2023, the SAMRC hosted two events. On 26 April 2023, the SAMRC-TIA Medical Device and Diagnostic Innovation Cluster (MeDDIC) programme invited SMEs and other interested stakeholders to an online event focusing on IP issues of relevance to medical devices and diagnostics. We were honoured by our guest speaker, Danie Pienaar, patent attorney and partner from the IP law firm Spoor and Fisher, South Africa. The participants guests had an opportunity to learn about IP basics with a specific focus on medical devices and diagnostics, particularly patents and registered designs.
Additionally, on 26 May 2023, the SAMRC Technology Transfer Office (TTO) hosted a hybrid event to celebrate South African women researchers, innovators, and entrepreneurs' IP contributions to the local and global health industry. This was a very interactive event where the panel of three women in innovation shared their innovation and IP creation journeys including, the challenges they experienced in accessing the resources, the support they needed to thrive in innovation and creativity and offering potential solutions through the lessons they learned. The guest speakers were Prof. Rabia Johnson, Senior Specialist Scientist and Deputy Director at Biomedical Research and Innovation Platform/SAMRC, Dr Amanda Skepu, Impact Area Manager for Molecular Diagnostics in the Next Generation Health Cluster at the Council for Scientific and Industrial Research (CSIR) and, Ms. Jetane Charsley, the Head of the National Intellectual Property Management Office NIPMO, a specialised service delivery unit within the Department of Science and Innovation (DSI).
The SAMRC's Grants, Innovation and Product Development GIPD) unit thanks everyone for participating in this year's celebrations and further encourages the conversations to continue towards achieving gender parity in innovation. The unit further invites the SAMRC community to contact the GIPD unit to learn more about IP protection, IP commercialisation and IP management.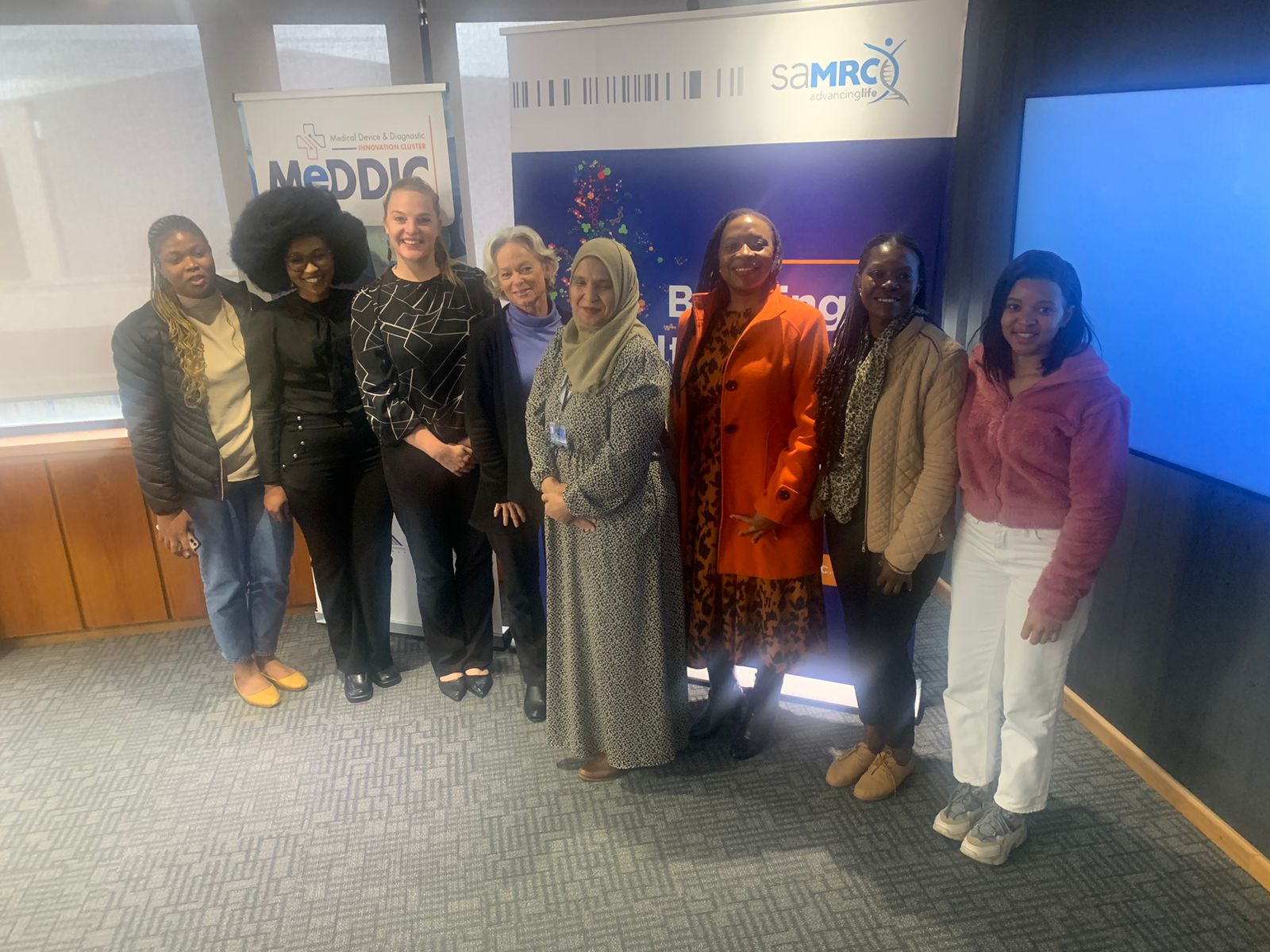 What is IP and IP law and why is it important?
IP refers to the legal rights granted to creators and innovators for their ideas and inventions. These rights include patents, trademarks, copyright, and trade secrets. They are intended to encourage innovation and protect the rights of the creators and inventors. By providing legal protections for ideas and inventions, IP incentivizes individuals and companies to invest in research and development, leading to new technologies, products, and services that benefit society.
Further, it is also encourages the dissemination of knowledge and ensuring that the public benefits from new technologies. Intellectual property law provides a balance between the interests of the creators and the public, and it is essential to ensure that this balance is maintained.
Learn more about the WIPO | HERE
Learn more about World IP Day | HERE
Learn more about the SAMRC GIPD unit