Prof Andre Pascal Kengne - Director: Non-communicable Diseases Research Unit (NCDRU) received the Sir Albert Cook Memorial Lecture Award, at the congress held in Dar es Salaam, Tanzania in April 2023.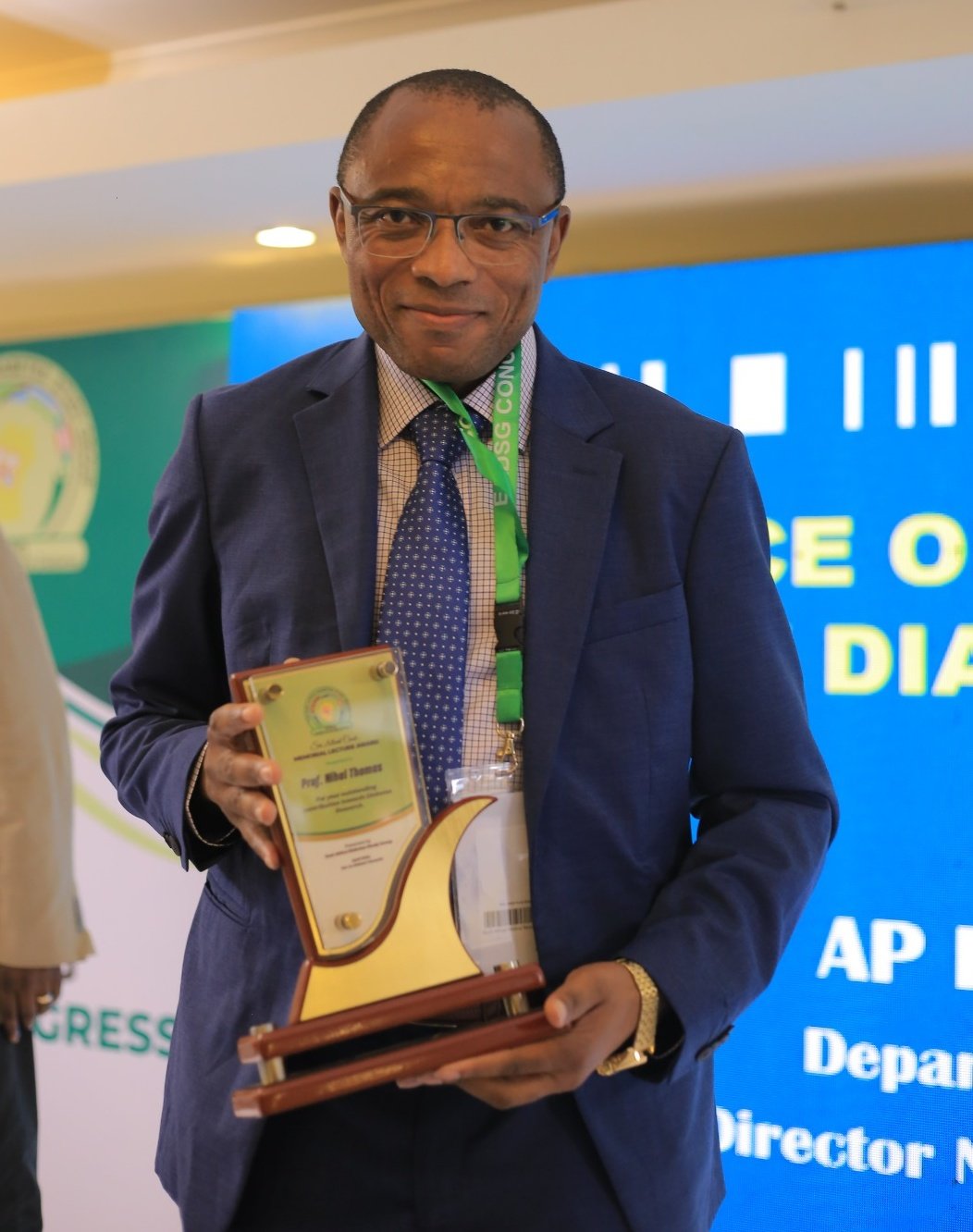 This award is conferred upon distinguished scholars who have followed the epidemic of diabetes in the Africa Region and are rewarded with this recognition, with the selection process being performed by the Scientific Committee of the East Africa Diabetes Study Group (EADSG). The EADSG hopes to develop a wide-range of diabetes-related programmes and materials to help healthcare professionals stay on top of new information, including short courses in epidemiology and translational research. The programme is designed to help healthcare professionals in their daily work with chronic patients, particularly persons suffering from diabetes or hypertension.
Prof Silver Bahendeka - Senior Consultant Physician for Diabetes and Endocrinology and Chamber lead for Diabetes Africa Sustainable Education said, "Prof Andre Pascal Kengne has done tremendous work on the epidemiology of diabetes in the Africa Region."
Prof Kengne who presented the lecture at the EADSG 2023 congress said: "Receiving the Sir Albert Cook Award is a great recognition I am very happy to share with the many students and collaborators I have worked with over the last two decades to improve diabetes risk screening among African populations."
The SAMRC extends its warmest congratulations to Prof Kengne for receiving the Sir Albert Cook Memorial Lecture Award. The organisation is proud to see one of our own being honoured with such a remarkable achievement and this award is a testament that SAMRC has excellent staff in the medical research community.
More about the award
Sir Albert Ruskin Cook, CMG, OBE, was a British medical missionary in Uganda, and the founder of Mulago Hospital and Mengo Hospital. Together with his wife, Katharine Cook, they established a maternity training school in Uganda. He is credited for his epidemiological observations published - see Citation: "Cook AR (1901) Notes on the diseases met with in Uganda, Central Africa. J Trop Med 4:175–178" noted that diabetes is rare, but when encountered with, it is fatal.
The Sir Albert Cook Memorial Lecture Award is one of three Memorial Lectures of the EADSG– and which also includes the Dr Eric Njumwa Mngola and Prof Donald MacLarty Awards, respectively. The Award carries with it a Lifetime Membership of the EADSG.
Read more about the EADSG programme | HERE