Mangosuthu University of Technology honours globally renowned scientist and SAMRC president at graduation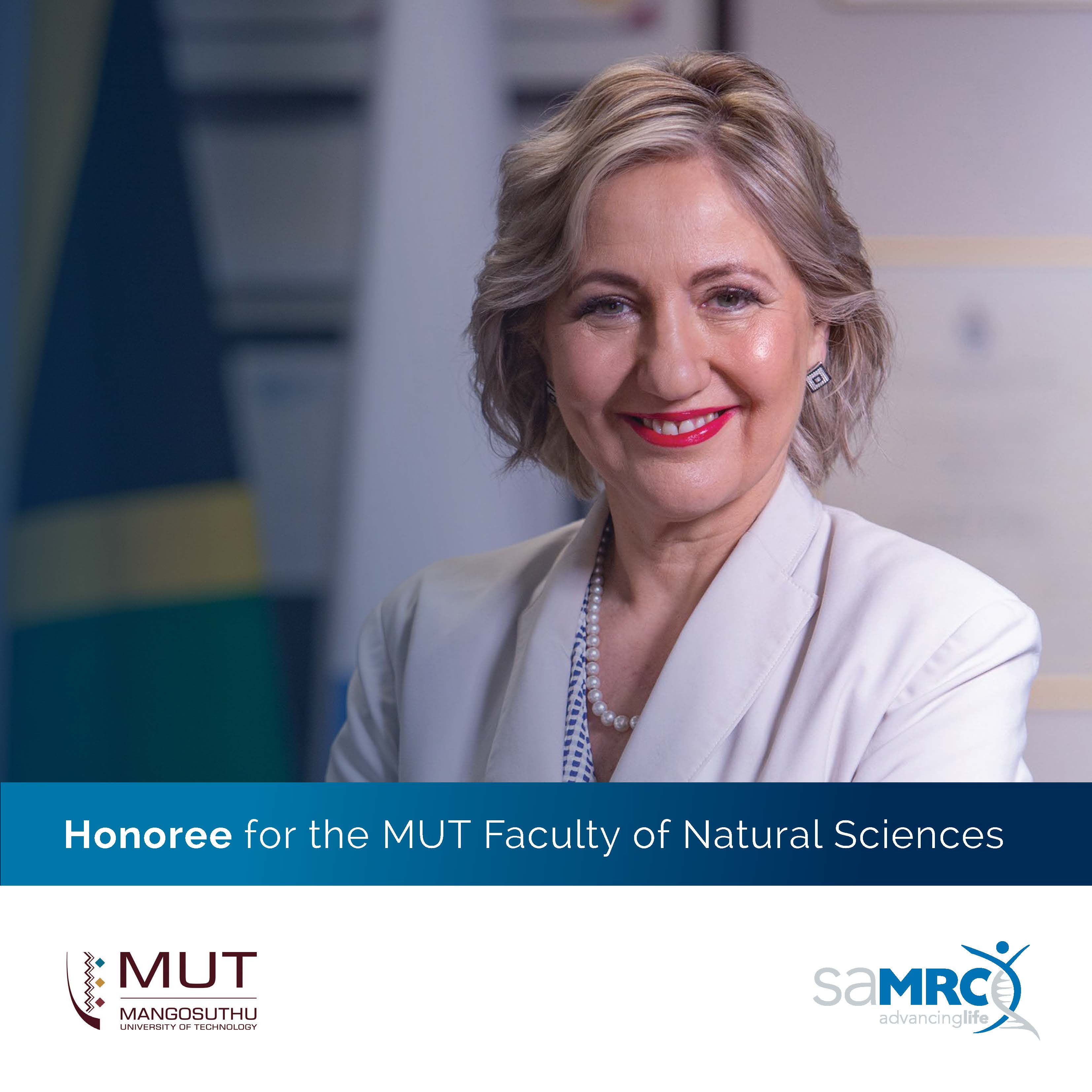 The President and Chief Executive Officer of the South African Medical Research Council (SAMRC) Professor Glenda Gray was venerated for her stellar contribution to science through research by the Mangosuthu University of Technology (MUT) faculty of Natural Sciences.
The graduation ceremony took place on 17 April 2023.
Professor Gray, who is a National Research Foundation A1-rated scientist is a qualified paediatrician, gaining global admiration for her research in the prevention of mother-to-child transmission (PMTCT) of HIV. This work earned her South Africa's highest honour, the Order of Mapungubwe in Silver in 2013.
"Professor Gray is one of the world's renowned scientists. Her contribution in this field has saved many generations from HIV and positioned Professor Gray as an advocate for children's health and wellbeing. MUT is honoured to recognise this African giant," said Professor Marcus Ramogale, Acting Vice-Chancellor and Principal of MUT.
In the global science arena, Professor Gray is also known for being the co-principal investigator of the HIV Vaccine Trials Network (HVTN), an international collaboration for the development of HIV/AIDS prevention vaccines.
Professor Ramogale added, "Professor Gray is an excellent example of using academic qualifications and training to serve humanity. Hers has been a life dedicated work to eradicating HIV. Her work and that of her colleagues continues to shape and build on health research about HIV and its efficient prevention methods".
She has received numerous accolades in recognition of her research work. Professor Gray received the Nelson Mandela Health and Human Rights Award for her significant contributions to the field of mother-to-child transmission of HIV. She was selected as one of Time's 100 Most Influential People in the World, and Forbes' Top 50 Women in Africa.
Professor Gray was honoured with a Doctor of Science (honoris causa) from Simon Fraser University, a Doctor of Science (honoris causa) from Stellenbosch University), and a Doctor of Laws (honoris causa) from Rhodes University.
A fellow of the American Academy of Microbiology, a member of the National Academy of Medicine, the Academy of Science of South Africa, the African Academy of Science, and the World Academy of Science. She is a member of the board of Global Antibiotic Research & Development Partnership, Access to Advanced Health Institute, and a member of the World Health Organisation's Strategic and Technical Advisory Group on Tuberculosis.
Professor Gray is also the co-founder of the internationally recognised Perinatal HIV Research Unit in Soweto. Prior to her appointment at the SAMRC, she was the Executive Director of the Perinatal HIV Research Unit, an affiliate of Wits University.
In receiving the award with profound gratitude, Professor Gray said, "It is truly a privilege to be recognised by such a prestigious institution. It is a testament to my dedication and hard work in advancing these important causes. It is my hope that this award also serves as an inspiration to others who are working towards similar goals. It highlights the importance of research and advocacy in improving the lives of vulnerable populations, particularly children".
Contact Details
Ms Yolanda Phakela
Public Relations Manager
Corporate & Marketing Communications
Tel: +27 938 0339
Cell: +27 73 801 3691
E-mail:  Yolanda.Phakela@mrc.ac.za