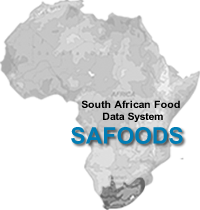 To study the relationship between food intake and nutritional well-being a country-specific food composition database is one of the key requirements. In South Africa, SAFOODS is responsible for the compilation of information on the energy and nutrient composition of food (South African Food Composition Database) consumed by the population. Staff members collaborate with data generators, i.e. groups who analyse food for energy and nutrient content, e.g. the Agriculture Research Council, researchers at universities and the food industry to obtain data for compilation and inclusion in the food composition database of SAFOODS. Another database compiled by SAFOODS is the Food Quantities Database in which information is available for the conversion of household measures of food into grams of food. This information is required for research purposes.
Information from the two databases, food composition and food quantities, is available in products and research tools developed by SAFOODS, e.g. books and a dietary analysis software program. The SAFOODS products and research tools are used in nutrition training, nutrition research, dietary intervention by health professionals, and by the food industry for food product development and under specific conditions for food labelling. The SAFOODS website provides detailed information on food composition activities related information.
The food composition tables, which contains information on the energy and nutrient composition of food, is an essential tool required for the assessment of dietary intake. The Biostatistics Unit provide a service for the analysis of dietary intake data.
SAFOODS has established a national advisory group (South African Food Data Advisory Group) to assist and advise SAFOODS on core food composition related focus areas.